Mumbai Kendra organized a Guided Meditation and Open House on May 15, 2016, especially for the newcomers who wish to learn about meditation.
The function was conducted by Swami Lalitananda Giri and the programme included an introduction to the Yoga teachings of Sri Sri Paramahansa Yogananda, a step-by-step guided meditation, video show and a Question and Answer session followed by refreshments. Swamiji later conducted a satsanga also for YSS devotees.
O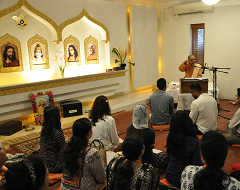 n the occasion of 2nd International Day of Yoga, a Open House was conducted June 12, 2016 by Swami Smarananandaji . The session was attended by about 190 devotees. Around 45 interested Truth-seekers also attended the programme; most of them entering the portals of the sacred Dhyana Mandir for the first time. They were warmly invited and welcomed by the Kendra volunteers.
Swamiji started with a prayer and went on to explain the posture, guided the congregation through a period of meditation, demonstrated some visualization exercises and followed by a healing technique. He explained the importance of being a yogi. Information was also given about Yogoda Satsanga Lessons.
All those who attended the session were inspired, and felt empowered and blessed by Swamiji's guidance.